You can engage attic conversion specialists like us to convert unused spaces inside your home like your attic to create some extra space for storage or any other use. If you have been looking for some added space inside your home, as a leading attic conversion company, we at 5 Star Attics have the solution since we possess the necessary expertise to transform your neglected attic. We put our experience and skills in attic conversions Meath that we have gained over the years to use while converting the loft into a dream space. You can use your attic simply to use furniture you no longer need or you may convert it into a cosy study offering the privacy you need to read your favorite book. 
Our team of professional attic conversion specialists in Meath offers excellent service and also sees to it that the highest industry standards are complied with at all stages of the project. The continuous and diligent efforts of our loft conversions Meath experts have ensured that we have successfully delivered what our clients have sought from us. It has given us a loyal band of customers today. It has been an honour to work for many homeowners in Meath we have been approached by with attic conversion jobs. 
5 Star Attics has established itself as a leading company possessing vast and comprehensive experience in converting lofts. We have delivered countless attic conversion projects. It has given us the opportunity to feature many loft conversion projects in our portfolio making it appear quite impressive. Therefore, our clients now have a wide range of designs they can choose from. You wouldn't know, but your attic holds many possibilities indeed. At 5 Star Attics, we are a company of experts which makes sure that your attic conversion job syncs with your home's other interiors perfectly. We make sure that the converted loft doesn't stick out like a sore thumb. You can have your attic converted by us into a party zone or into a private space of your own, your refuge from the buzz downstairs. The possibilities sure are immense! Your vision about converting your attic is our mission and we offer a free mock-up design with a reasonable quote. Come, join hands with us at 5 Star Attics as we explore what possibilities your attic holds. It's going to be an exciting ride with one of the leading attic conversion specialists in Meath by your side.

5 Star Attics, the best choice for attic conversions
You should choose the right experts with a clear understanding of what your needs are and your purpose behind the attic conversion. It ensures that the end result meets your expectations. 5 Star Attics puts a team of very experienced and comprehensively trained experts into the job which gives shape to your dreams about your loft. We give you a detailed briefing, a presentation on what your attic will be converted into before we start working on the project so you know what to expect when we are done. 
We are the only company in Meath with the necessary knowledge, skills and experience that can convert your loft into a space of your dreams. We are the ones to approach for a smooth, hassle-free attic conversion job. 
We realise what challenges homeowners in Meath face during attic conversions as it's been decades that we have been operating in the area. Hence, if you are looking for a thorough makeover of your attic, choose us for the job right away as we have been involved in delivering many out-of-the-box loft conversion projects. True, we have all the experience in the world and hence we realise when a project demands some extra care and attention. Our team of experts is put into action and it'll be only too happy to discuss your requirements with you making sure that your attic transformation ideas are applied to the 'T.'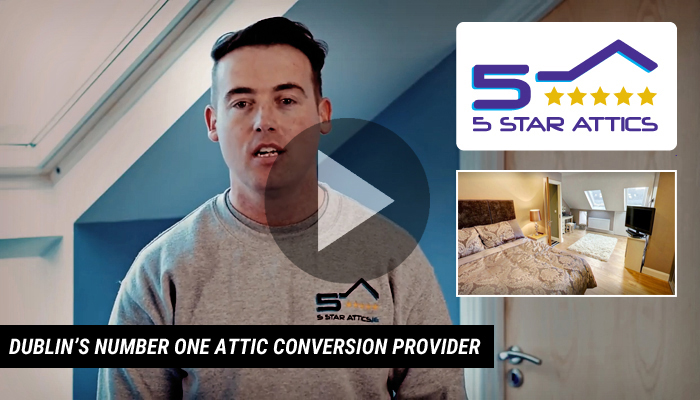 Loft conversion helps raise your home's market value and create extra living space
If you are keen to raise your home's market value in Meath, it sure is a great idea to have your attic transformed by us. Attic conversions are an ideal option to increase your home's market value by creating added space without having to deal with the hassles of an extension job. For an immediate boost to your home's market value, make sure that you make optimum use of all available space and convert your attic into a useful space. 
We offer options of a wide variety at our office in Meath if you are interested in giving your loft a major makeover. The talented people in our team of experts are very proficient in attic conversions. What's more, they are very capable of carrying out the entire project very smoothly. The team makes sure that the highest construction standards are adhered to and the best interior designing skills are put to use to convert your home's attic in Meath that leaves people awestruck. 
If the decision to convert your attic has been made, brace yourself, for you are about to witness an amazing attic transformation. You may choose to convert your loft into:
 Irrespective of your needs, make sure to optimise all available space inside your home so you can raise its market value. Not using your attic is wasting space that holds immense potential. Put it to purposeful use so you can bag a better deal when you sell your house.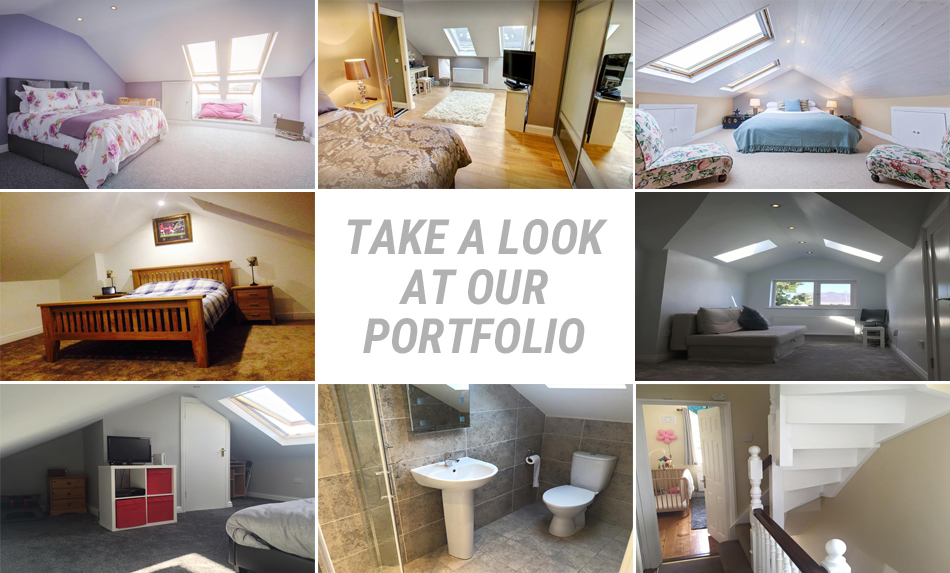 The benefits offered by 5 Star Attics when redoing lofts
We have invaluable experience under our belt!
 We have given shape to the uniquely creative ideas of many homeowners in Meath when transforming their attics which has helped us gain immense popularity. You can trust us with your attic transformation and we assure you that we will convert it into a space you would've only dreamt of. Our team of experts has all the skills and expertise needed to transform your attic into a stylish space—one that has your guests very impressed indeed.
We have been the ones behind many unused and crammed attics being converted into useful spaces and it gives us the confidence to say that we know quite a lot about loft conversions today. We work with complete independence and when you engage us to transform your attic, you know we'll deliver a magical space. We deliver smooth and seamless loft conversion jobs and we find a lot of joy in bringing a smile on the faces of our customers when we finish their attic jobs gifting them a dream space.
We comply with the highest standards in our work!
We at 5 Star Attics have earned a great deal of reputation for the high standards of professionalism we maintain and our excellent workmanship. We give our best and make sure that the attic conversion job we deliver far exceeds your expectations and the new space we create turns out to be much, much better than what it used to be. We adhere to all the regulatory compliances as stipulated in the rule books at every stage of the project and we always remain prepared with a checklist of all the regulations just in case you ask for it. We take utmost care to see that all necessary regulations are complied with since we realise that every attic transformation job involves the safety of our clients. Give us an opportunity so we can showcase the immense possibilities your attic holds and convert it into a space that impresses your guests no end.
Hundreds of homeowners have chosen us as we have consistently delivered impressive results. Our attic conversion jobs have impressed our customers and their guests greatly. In fact, we owe much of our popularity to word of mouth publicity. No wonder we enjoy so much goodwill among our customers.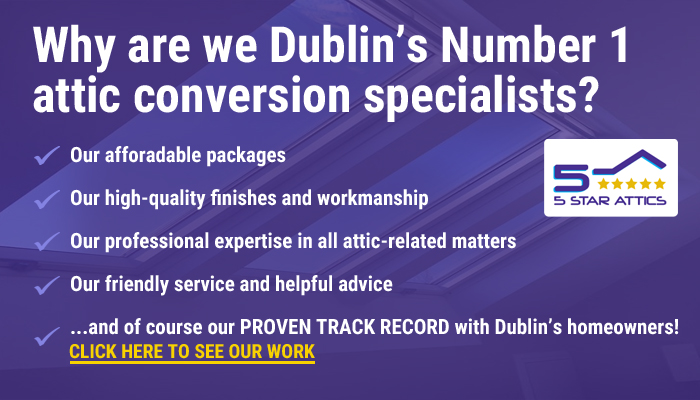 Build and design concepts of the loft conversion
 We pay you a visit in the first stage of the project to understand your vision behind the attic conversion and to discuss the feasibility of your ideas. We start on the project only after we reach a final understanding on what we seek from the project, i.e. the project objective. We pick up the necessary equipment and get started with the various parts that make the entire project. The architectural and structural designing of the attic, surveying the site, planning and readying the regulation applications, and constructing as well as managing the entire project comprise this critical phase.
Hand over the hassles of converting your messy attic to us. Sit back and relax as you enjoy watching the magic we create out of your loft. You're sure to be the talk of the town in Meath.
What are the costs involved in attic conversions in Meath?
Various factors decide the cost of an attic conversion job and these factors differ from home to home. We can share an honest estimate with you only after we carry out a thorough inspection at the site and completed a proper documentation of our findings. What your vision and objectives of the attic conversion job are also matter a lot in deciding the cost of the project. We help you realise what you seek from transforming your attic while making sure that the costs remain reasonable. We repeat, an extensive research and comprehensive documentation are a must in arriving at an actual estimate.
We are much respected and trusted for our clarity and honesty about what the cost of any attic transformation job will be. It's a fact that we have never ever included any hidden costs in any of our attic conversion jobs that have come as a rude jolt to our clients midway through a project. You shall have to pay only the quoted price, no matter what the determining factors are. With our reasonable quotations and the "no hidden costs" policy, we have earned ourselves a lot of trust from our customers. That explains our popularity as leading attic conversion specialists in Meath.
Places where we offer our services
We are based out of Meath and we have built a solid reputation as leading attic transformation specialists here. Apart from Meath, we serve people in Tallaght, Citywest, Lucan and the areas adjoining the city. Make no further delay and call us right away so we can share a detailed design mock-up and a quote with you absolutely free. Once you have decided about the objective you seek to meet by transforming your attic, do give us a call and we shall be more than happy to transform your loft into a space you could have only dreamt of.