Attic Conversions For Proud Homeowners
An interview with Wayne McNevin who heads the team at 5 Star Attics.

In the past, when you needed more space in your home, it was a case of earning more money to be able to afford somewhere bigger. But nowadays, moving house is just too costly. All houses have attics or some kind of roof space. For most homes, this space is not utilised. But with an attic conversion you can get the extra space you need AND significantly increase the value of your house – for a price which is affordable.
The idea of an attic conversion can be daunting, but Dublin-based 5 Star Attics offers a hassle-free, affordable package for the entire job from start to finish.
As Wayne McNevin from 5-Star Attics explains: "We have vast experience and expertise, we have come across every kind of attic roof space you can imagine, and we're very familiar with all the different residential neighbourhoods all over the Dublin area."
So if a Dublin homewoner is wondering whether their own roof space is feasible for a conversion, the chances are 5 Star Attics have done a conversion on their street or certainly close by in their neighbourhood?
Wayne adds: "Yes. That's why we're the number one provider of Attic Conversions in Dublin. We've got a proven track record. Because we've worked on such a large number of conversions, the team have got the entire process down to a T, which means we can go through all the steps efficiently and make it very affordable, and maintain the highest standard of workmanship and a high quality finish. Just look at our portfolio of jobs we've done for happy homeowners".

The thought of getting people in to do work on your house can be scary. For most people, the worry is all the uncertainty, all the unforeseen issues where you end up spending way over your original budget…
Wayne continues: "That's what makes us different! We have geared our business to eliminate those worries and give homeowners total peace of mind. For us to be able put together an affordable, all-inclusive package, where all the costs are clear and upfront, means we're a breath of fresh of air in the trade. And we can offer this because we've got the experience – and we've got a strong team who can handle any job – no matter how tricky. You name it – we've done it!"
"Our customers really appreciate this…and that's why our entire business and reputation is based on giving people a hassle-free package."
"Because we know…If we keep our customers happy, by giving value for money and doing a great job, then we'll keep getting ongoing work from recommendations and referrals."
On most conversions the customer gets a great living space AND storage space as well – it doesn't have to be one or the other…
Wayne explains: "You can have both, in the majority of cases. It depends on what the customer wants. We inspect the attic space and then we sit down with the customer and go through what's possible, what would be the best use of the space, and we listen to what's most important to them. At the end of the day we want to give them their dream vision of how they want their attic to be…and actually exceed those expectations."

As well as the workmanship, 5 Star Attics focuses on friendly, helpful advice…
Wayne continues: "We know all about planning permission, all the technicalities and how to get around them. For example, a home might use their attic space as an extra bedroom, but it's not technically classed as a bedroom and so planning permission isn't required. So we are fully clued-up on those issues and we give the right advice. Homeowners naturally will have a ton of questions about all the different aspects – staircases, windows, storage, electrics, radiators, insulation, building regulations, ensuite bathrooms."
"We're committed to giving the very best advice and helping our customers as much as possible. At the end of the day, we want them to be happy and delighted with their attic conversion."
So what are you waiting for? That dusty old space in the roof where you keep your Christmas decorations is going to waste! Transforming it into a stunning living space which also puts a significant increase on your property value will be the best home decision you've ever made!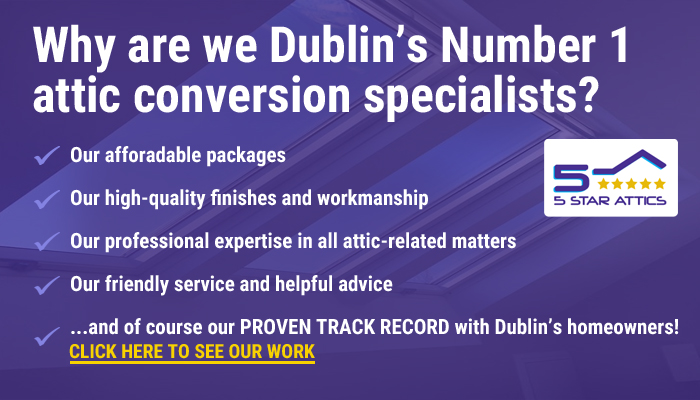 Take a look at our next section, covering costs, frequently asked questions and more helpful information on what conversions involve.
Browse through our portfolio to see the quality of our workmanship, and the professional service you will receive when you choose 5 Star Attics to undertake your loft conversion or extension. We are a Lucan based company covering the whole of Dublin and the surrounding counties.