Does change always have to mean "new?" Not really, because in the authentic sense, change can also mean "to renew." So, why do so many people jump to pack their bags and change their addresses when upgrading their lifestyles?
It's because they don't know the secret that improving is better than moving. In theory, a brand-new residential address might seem charming. 
But all that glitters isn't gold.
So, let's see why making the grass greener right where you are is more beneficial than hauling yourself to other places.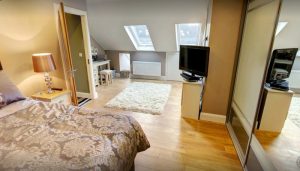 The Crushing Cost
Moving is all fun and games until you have to cough out the money for every tiny part of the process. Ultimately, the rising inflation and legal aspects of moving will take a toll on your financial and mental health. 
Before you know it, you will be emptying your wallet for tasks you can only sightly comprehend. For instance, stamp duty and your lawyer's fee are just the basics. And we haven't even started on the expenses of transportation and relocating.
Also, real estate has reached new highs in terms of prices and is among the top reasons why people can't upgrade their property sizes.
But what if you only spent half of this and upscaled your current property with the bonus of minimal mental taxation? Believe it or not, many people are doing this.
They now wonder, "Why bother moving when I can spruce up what I've got?" And you know what? They are onto something!
The best part is the money you put into the loft conversion gives you something tangible in return. Unlike shelling out cash to estate agents or the taxman, you have a personalized loft space that fits your needs perfectly. 
So, it's a win-win situation all around!
The Mental Taxation
It doesn't matter if you're pro-moving or anti. You'll still agree that moving house is a total stress fest! 
The thrill of receiving an offer on your home rapidly leads to frustration dealing with estate agents and solicitors. Also, let's not forget those pesky moving companies.
However, 5 Star Attics has got your back. 
Making the loft conversion process as stress-free as feasible is our top priority. From concept to construction, our experts handle everything efficiently. Additionally, we are aware of the significance of doing the task correctly.
And get this, most of the conversion work is done outside! So, your home life won't be upended in light of the upheaval, as opposed to relocating.
Therefore, attic conversion with us is the best option to minimize the hassle while still getting that extra room! 
The Creative Calling
A new home might seem like a breath of fresh air where you can bring out your inner interior designer. Each room would be a new opportunity to let your creative juices flow.
However, the sheer newness of it and the stress of assessing and ensuring a perfect move will dry those juices real quickly.
Instead, a loft conversion could give you a more significant opportunity to improve things. The possibilities are endless, and you can enjoy them without the extra hassle. 
You only need to let your imagination run wild, and you could end up with anything from your own cinema to a hobbit-themed library! 
Final Verdict
When it comes to a winner, the loft conversion takes the crown! Not only is it way more budget-friendly, but it also saves you from all that unnecessary stress. 
Plus, the best part is that you get to customize your new space just how you want it – it's like a dream come true! So, if you're looking for an easier way to give your home a whole new look, the loft conversion is the clear winner!
Gone are the days when loft conversions were boring additions to your humble abode. Nowadays, they are the secret magic trick of interior designers. And by trusting 5 Star Attics, you'll experience this magic under your roof. 
About 5 Star Attics
At 5 Star Attics, we have a mission to help you find a treasure right under your roof. Back in the day, when families wanted more space, they had to buy bigger homes. 
But, with our fine loft conversion craftsmanship, homeowners don't need to look for space out of their houses.
Get In Touch
So, as a Dublin resident, you can can contact us today and get more useable attic space. 
We are always at your disposal on the following number: 
Also, check out the testimonials section on our website to find out what hundreds of happy customers think about our service. Happy upgrading!